The Rehearsal by David Newell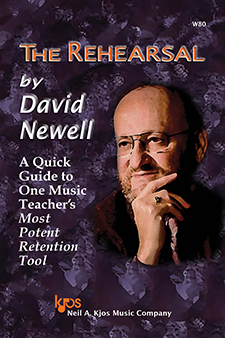 Customer Reviews
Customer Reviews
In stock
3
*In-store availability may not reflect selected option.
W80
W80
9780849770272
New
1.00 lbs.

The Rehearsal is the music teacher's most potent and powerful retention tool. Musically performed and well attended concerts, memorable trips, trophies, superior ratings at adjudicated events, the sense of camaraderie and of belonging to something important that develops all of these and more play important parts in student retention in our performance ensembles. But they are probably not the pivotal elements. Rather, what happens during each and every rehearsal is the master key that unlocks the box labeled "Student Retention."
Educator David Newell, author of the critically acclaimed texts, Classroom Management in the Music Room and Teaching Rhythm, shares time tested strategies and personal reflections that reveal how music teachers can help students make beautiful music during every rehearsal not just during special events like those listed above.
To retain students in music, they need to get hooked on music. More than anything else, it is the daily classroom experience that keeps them in the music program! Every rehearsal minute must be carefully harvested with intention and purpose. After reading David's book, The Rehearsal: A Quick Guide to One Music Teacher's Most Potent Retention Tool, you'll know why a beautifully crafted, aesthetically-driven, well planned and fast paced rehearsal is the key to keeping students in performance ensembles.
Table of Contents:
| | |
| --- | --- |
| Catalog: | W80 |
| Publisher: | KJOS |
| Composer: | David Newell |
| Artist: | |
| Arranger: | |
| Voicing: | |
| Level: | |
| Pages: | 0 |